Laura from What's Hot Blog? inspired me to revamp my at-home workspace. And so, I carried (with help) my desk from the basement with no natural light upstairs to my room. I've had this new setup for about a month now and I wanted to share the new space and also my work from home tips that make work comfortable. I used to struggle with low back and neck pain until I implemented these tools.
How to work from home comfortably:
Create a designated working space
Having one spot in the house helps me to feel like I'm separating work from home life despite both being under the same roof. It's been helpful for me since making this space because when I'm leaving the desk I'm able to feel as if I'm leaving behind my work and stepping into the next part of my day. I'll admit I was apprehensive of moving my desk into my room because I've heard stories and read magazine articles saying you shouldn't have anything work-related in your room because it keeps the mind/body in "work mode." Well, I've found this to be the opposite and actually more relaxing for me. I feel energized, excited, and motivated when I see my desk in my room. It also reminds me to keep a tidy space because I don't want to feel overwhelmed when I sit at my desk to work. I don't want to have to worry about moving piles of clothes off my vanity chair behind me if an impromptu Zoom meeting is scheduled. On the other hand, when I'm off the clock, I don't want to see mounds of papers sitting on my desk. Moving my desk into my room has been a fabulous inspiration to keep me organized and accountable for how I'm balancing work and general living. I also love being in front of the windows. My room has one of the best views since it faces the back of the house into the yard with all the trees. Seeing nature and sunshine helps me to work smarter. Plus, I'm getting my Vitamin D each day!
Utilize desk support option
I use yoga blocks as foot support after noticing how I still had low back pressure after adding a supportive chair backing. I've also been battling knee pain and having a bit of support and raising my legs took the pressure off of both my knees and the low back. I also like that I can adjust the height of the blocks. Lastly, my friend Gina is a yoga instructor who posts frequent videos for stretches we can do seated. I like being able to take a mid-day stretching break and I've grabbed my blocks to help me stretch out and get some movement in when I would otherwise be seated. I originally was going to buy a designated footrest but 1) they can be expensive 2) they're cold underneath my feet 3) I'm never going to use it when I'm not working at my desk—it's not easy to travel with or have a purpose other than work-related. I didn't see the versatility whereas I use the yoga blocks SO much more and they're 1/3 of the cost.
purchase a Comfortable & Supportive Chair
Along the lines of comfort, I also upgraded my cute chair to a comfortable chair. I purchased a higher back chair with lumbar support. It's a typical office chair with adjustable heigh options, armrests, and heavy-duty so it lasts. Here is the link to the chair I bought online.
Second Monitor
I also gave in to the second monitor hype. I never thought I would enjoy this because I felt like it would make my desk space feel crowded. I also thought that I wouldn't use it. Well, I was wrong about both. I ended up elevating my monitor so I have more desk space for writing/to house my desk trinkets. I also enjoy being able to have multiple windows open at full screen instead of splitting it on my 15-inch laptop. Sometimes I will put the monitor away if I'm not using programs where I need both but most of the time it's camped out on my desk ready for the next usage.
YOU MIGHT ALSO LIKE:
Get to know Yourself & What You Need
Aesthetic Area
I'm most creative and productive when the environment I'm in reflects the things I enjoy. I'm inspired by bright workspaces, flowers, and bright colors. When I was styling my desk I was mindful of bringing these elements into my space while staying organized. I didn't want to sit down and spend time trying to rearrange things to get my laptop to fit. I also didn't want to have to adjust things around if I wanted to write and have my laptop open at the same time. It was important that I felt my desk reflected me while still having functionality.
Curate your room smell
My friend Gina and I were also talking about how we love the smell of Spring. She and I then referenced aromatherapy and how nice it is when places smell like lemon or fresh flowers. This reminded me of how I used to diffuse lemon essential oils in my workspace. I'm going to start doing this again since I have a diffuser and bright-smelling essential oils. I love how scents can transport and inspire me. They seem to tell my mind to "stay alert", which helps on days where I'm not feeling inspired to do a task.
Water Bottle
Having a water bottle on my desk keeps me hydrated. I'm absolute rubbish at drinking water throughout the day and having a giant thermos/glass with a cute straw reminds me to drink.
Background sounds
I have my BOSE speaker across my room playing (you guessed it) Taylor Swift. I like to pop on an album and use that as a means of measuring time. Often I'll tell myself I need to have task A completed by the time the album evermore finishes playing. I like to use this as a way to introduce myself to other noises since when the pandemic ends I'll be back to working in coffee shops and collaborative spaces.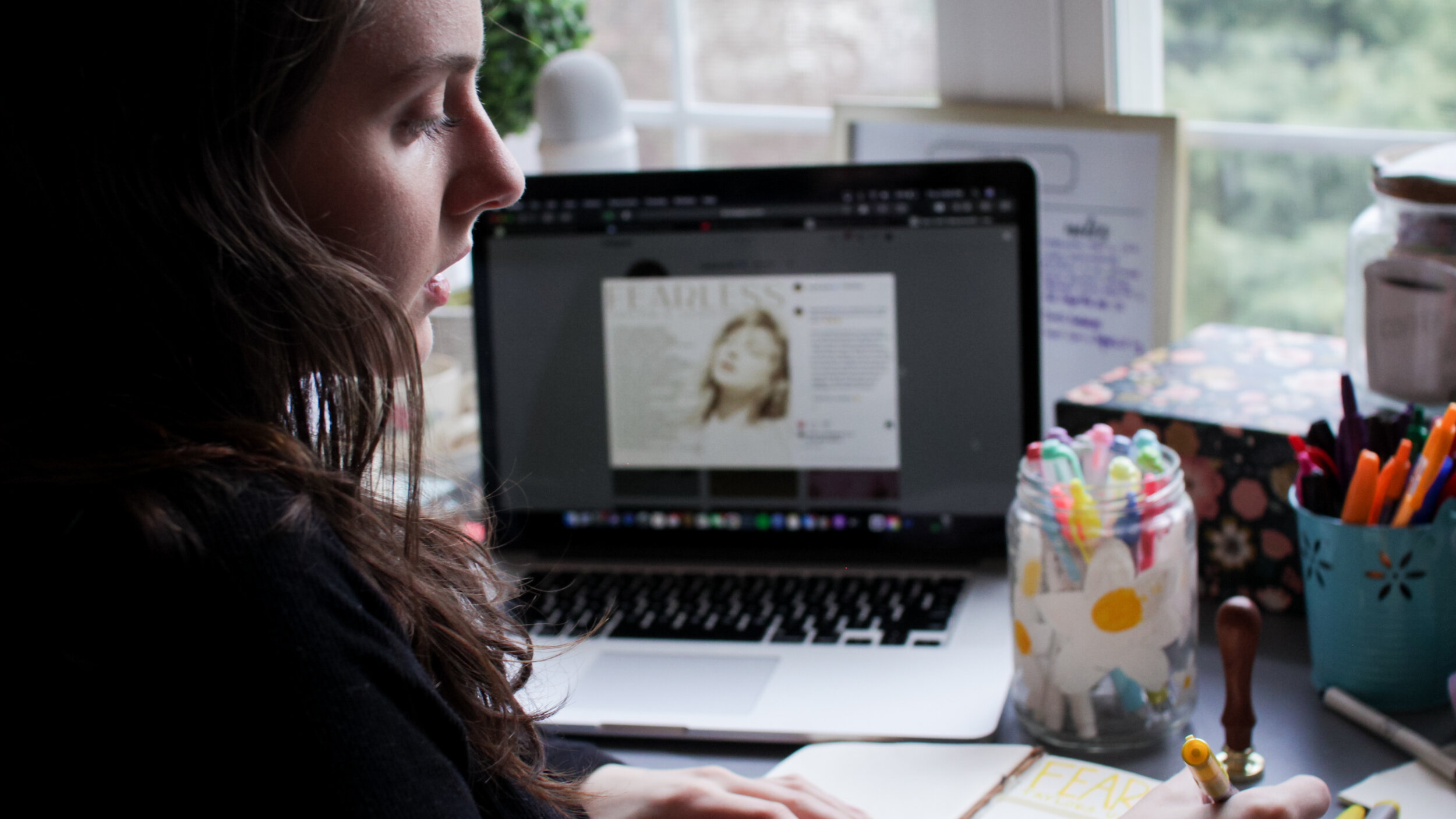 Create A Distraction-Free Zone
Putting my phone in my desk drawer helps me to not reach for it and be distracted by Instagram or scroll through Pinterest for craft ideas. I also turn the push notifications on my laptop off so I'm not tempted to switch gears and tend to those/browse whatever notified me.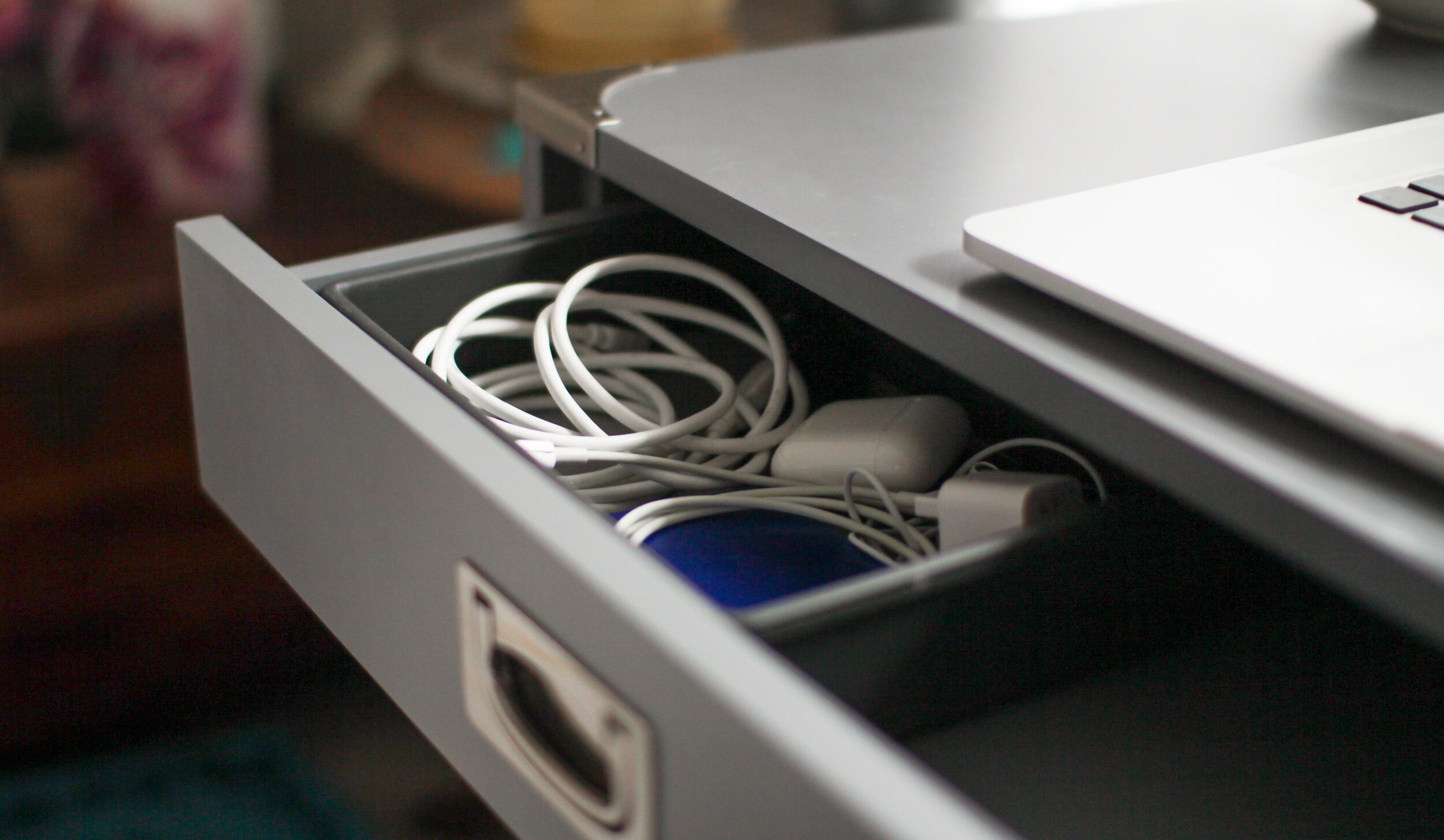 ---